JAPAN STAGE18, 2 Days Live Webcasting!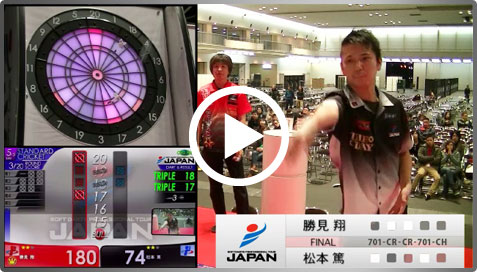 This is the tournament that decides the best and strongest soft tip darts player in Japan.
"SOFT DARTS PROFESSIONAL TOUR JAPAN" webcasted LIVE STAGE 18, the final stage of the season will be held for 2 days and DARTSLIVE. TV will be webcasting heating matches on both days.
JAPAN DOUBLES EXHIBITION
Live from:
12:30, 9th Feb. (Singapore, Malaysia)
11:30, 9th Feb. (Thailand)
20:30, 8th Feb. Pacific Standard Time (US, Canada)
JAPAN Division 1, JAPAN LADIES FINAL
Live from:
9:00, 10th Feb. (Singapore, Malaysia)
8:00, 10th Feb. (Thailand)
17:00, 9th Feb. Pacific Standard Time (US, Canada)
Please click here for viewing→ http://dartslive.tv/en/