SUPER 2 SEASON 10 Playoff information
Congratulations to all the Group Champions for making it straight to the SKO and also the those teams who made it to the LEAGUE FINALS RR*!
*Teams in 2nd to 4th placing in each group will progress to the ROUND ROBIN Playoff to win the spot and challenge the Group Champions in the League Finals!
SUPER 2 SEASON 10 Playoff Schedule is now revealed!
ROUND ROBIN Schedule: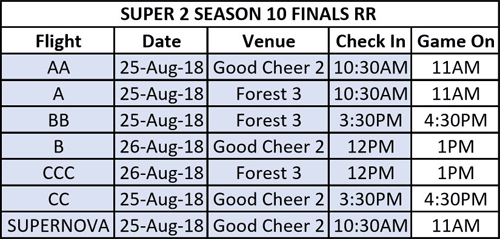 SKO Schedule: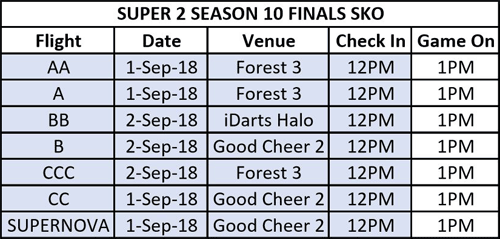 All the best and Good Darts to all teams!
LEAGUE FINALS Details
LEAGUE_FINALS_Details.pdf
ROUND ROBIN Groupings
AA_Flight.pdf
A_Flight.pdf
BB_Flight.pdf
B_Flight.pdf
CCC_Flight.pdf
CC_Flight.pdf
SUPERNOVA_Flight.pdf