SUPER 2 SEASON 9 Playoff Information

SUPER 2 SEASON 9 Playoff Schedule is now revealed!
ROUND ROBIN Schedule: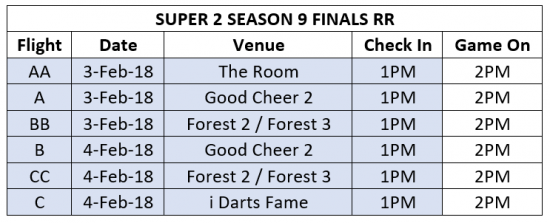 SKO Schedule: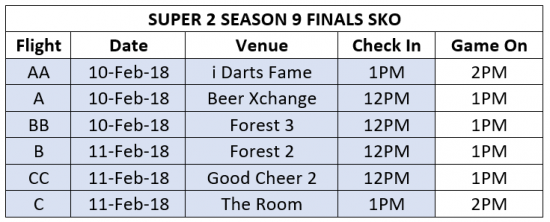 Game​​​ Format &​ ​Round​ ​​R​obin playoff groupings will be released on 30 January 2018, 6pm!
Good darts to all the teams who are still fighting for positions in the individual groups.
All the best and see you at ​Finals​!
Division Finals Details
Division_Finals_Details(Revised_V2).pdf
Round Robin Playoff Groupings
Division_Finals_(AA).pdf
Division_Finals_(A).pdf
Division_Finals_(BB).pdf
Division_Finals_(B).pdf
Division_Finals_(CC)(Revised).pdf
Division_Finals_(C).pdf