SUPER LEAGUE WORLD CHAMPIONSHIP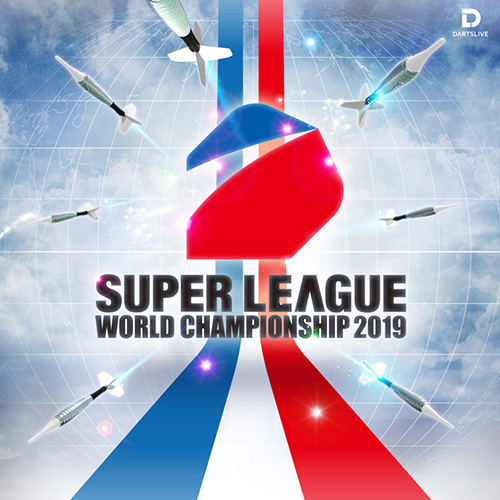 Outline
Tournament Name
SUPER LEAGUE WORLD CHAMPIONSHIP 2019
Tournament Date
Saturday, 19 Oct, 2019
Venue
MAX ATRIA @ SINGAPORE EXPO Garnet Ballroom
Address: 1 Expo Drive, #02-01, Singapore 486150
Prize money
(Currency:US$)
SUPER LEAGUE WORLD CHAMPIONSHIP 2019

Champion
Runner-Up
BEST 4
Prize money
US$10,000
US$4,000
US$2,000
Caution
Schedule
Saturday, 19 Oct, 2019
8:00 - 9:00 am

Team Check-in
*All team members must check in with Passport
9:00 - 9:15 am

Captain's Meeting
09:30 am

Opening Ceremony / Draw
*At the opening ceremony, each Team Captain will draw the Round Robin bloc on the stage
10:30 am

Round Robin Game On
Game Format
Game Format

Section 1
Section 2
LEG 1 : DOUBLES 701 (OI/MO)
LEG 5 : DOUBLES 501 (DI/DO *Freeze)
LEG 2 : DOUBLES STANDARD CRICKET
LEG 6 : TEAM CRICKET (2 players per team)
LEG 3 : TRIO HALF–IT MASTER MODE
LEG 7 : GALLON 1101 (OI/MO)
LEG 4 : SINGLE 701 (OI/MO)
*One player cannot play more than 2 games in each Section.
*Same player cannot join both 1st and 2nd LEG.
*Same player cannot join both 5th and 6th LEG.
*Separate bull (25/50) will be used for 5th LEG. Fat bull (50/50) will be used for other LEGS.


Pre-tournament: Round Robin
Competition in all 7 LEGS
Point system:

-LEG won: 1 point
-MATCH won: 2 points

Ranking system for the Round Robin:

1. Team with the most points
2. Team with the most LEGS won
3. Team with the less LEGS lost

* If two or more teams are tied on (1)-(3), each team will play a COUNT-UP. The winner of the COUNT-UP will be ranked higher.

Top 2 teams of each Round Robin will proceed to the Final Tournament.
Final Tournament: SKO
Best of 7 LEGS, first team to win 4 LEGS proceed to the next round.
Tournament Rules
Rules
Round limit is 15 for 501 and 701. Round limit is 20 for 1101 and CRICKET.
No practice throws are allowed once the MATCH starts.
Player will be given 2 throws before each participating LEG.
1st thrower will be decided by Cork at 1st LEG
Looser of the precedent LEG will play first for the next LEG from 2nd LEG.
7th LEG throwing order :

Round Robin : Looser of the 6th LEG throw first.
SKO : 1st thrower will be decided by Cork at 7th Leg. Cork winner will throw first.
*Please refer to the rules of the concurrent event DARTSLIVE OPEN 2019 SINGAPORE for other rules.
DARTSLIVE OPEN 2019 SINGAPORE RULES
Players participation
Maximum no. of players per team is 8 for each MATCH (Minimum 4 players). Player change is not acceptable during the MATCH.
The Playing Order cannot be changed during the MATCH.
The Player Order can be changed per each MATCHES.
All team members need to check in to participate in the SUPER LEAGUE WORLD CHAMPIONSHIP. Please bring your passport or official ID card.
Drawings for the pretournament ROUND ROBIN matchups will be conducted in the morning of the tournament day.
You will receive a special DARTSLIVE CARD on the day of the event. Please use only this card for the tournament.
If the team finishes above Best 4, all team members are required to participate in the Award Ceremony.
Tournament Operator will not pay out the prize money unless all of the team members participate in the Award ceremony.
Players who will be playing in SUPER LEAGUE WORLD CHAMPIONSHIP 2019 cannot play any other DARTSLIVE OPEN 2019 SINGAPORE tournament on the same day due to schedule conflicts.
Match Rules
Control will make annoucement of the tournament progress accordingly.
*For any rules not mentioned above, this tournament adopts the WSDA Official Rulebook.