FIRST STAGE
QUARTER FINAL
FINAL & SEMI FINAL
FINAL MATCH
Scott Kirchner VS Benjamin Dersch (3-1)
The Final opposed two players from the US, a leading soft-tip darts country. Both players are also sponsorised by DMC, making this Final a fellow players' battle. Kirchner is like a teacher to Dersch, and they have both a very similar playstyle.

First leg was won by Kirchner, who kept on the pressure and threw his darts with high concentration. For the second leg's Cricket, Dersch managed to grab and take advantage of the few chances that presented to him. But, Dersch's steady advance stopped here.
For the third leg's Cricket, Kirchner started with a TON80 and kept his advantage. For the fourth leg's 01, after advancing in the game with a perfect pace, at the fifth round he finished by hitting the double bull-1-double bull.

At that moment, Scott Kirchner became the champion of SUPER DARTS 2013.

Instead of scoring a perfect finish that can be a gamble, Kirchner chose to finish with a steady arrange. That mindset of winning no matter what, might have been the biggest reason of Kirchner's victory at this one big tournament.
Result
○

Scott Kirchner

123.00
5.67
6.67
150.00
○
○
○
701
CR
CR
701

Benjamin Dersch

○
122.25
5.00
5.40
119.75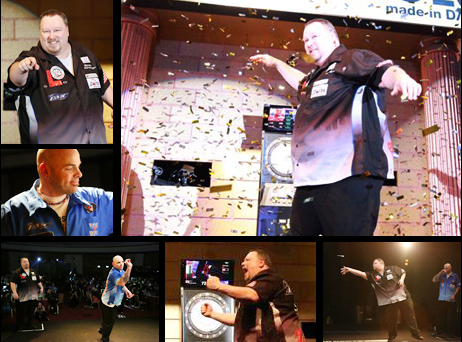 SEMI FINAL MATCH 2
Benjamin Dersch VS Paul Lim (3-1)
This game opposed Dersch, who was building his momentum after his dramatic win at the previous game, to Lim, who managed to climb to the semi finals with his highly strategic playstyle.

For the first leg, both players could not hide their fatigue after playing under pressure for a long period of time. Dersch managed to score his finish and took the first leg. For the following Cricket, Dersch overcame his opponent with his high concentration that he recovered. For the third leg's Cricket, Lim, who was on the ropes managed to lead and won without leaving Dersch any chances of counterattacking. For the fourth leg's 01, Lim recovered his concentration and kept hitting the bull, but unfortunately one of his darts got repelled. He never managed to catch up to Dersch, who got the spot in the Final.
Result
○

Benjamin Dersch

114.20
6.40
4.33
118.80
○
○
○
701
CR
CR
701

Paul Lim

○
120.25
4.40
6.25
137.50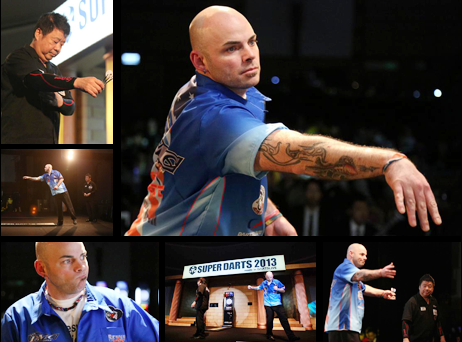 SEMI FINAL MATCH 1
Lourence Ilagan VS Scott Kirchner (2-3)
The first semi-final opposed Ilagan, a top player in Asia with a dynamic and wild play style, to Kirchner, who managed to have a stable darts and was able to keep winning.

For the first leg's 701, Kirchner won as if it was granted. For the second leg's cricket, Ilagan won over his opponent as well as for the 3rd leg's cricket, with the best stats of this tournament, an average of 7.8 MPR (Marks Per Round). Kirchner, who was on the ropes managed to take the advantage of being the first thrower and won the 4th leg's 701. For the last leg's Criket, Ilagan seemed to have lost his concentration and was distanced by his opponent, slowly but surely, giving Kirchner the ticket to the Final.
Result
Lourence Ilagan

110.50
5.43
7.80
142.25
3.80
○
○
701
CR
CR
701
CR
○

Scott Kirchner

○
○
○
120.60
4.83
5.80
134.75
4.67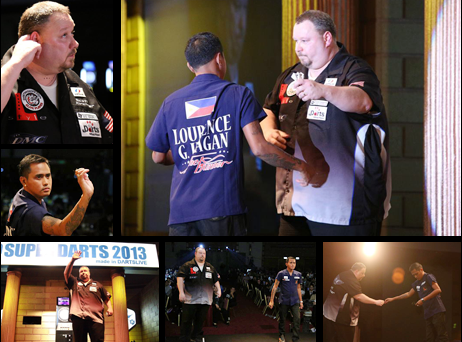 QUARTER FINAL MATCH 4
Morihiro Hashimoto VS Paul Lim (2-3)
A battle of Hashimoto, representative of Japan and Lim, representative of Asia. Both players are ones of the most stable and clutch players of this tournament. They have managed to get good results in many big tournaments. In the past, Hashimoto has never won over Lim, and is aiming for his first in this match-up.

As the battle began with Hashimoto scoring an average of 141.75 and Lim scoring 150, both players managed to keep their concentration high, making this match-up a high level battle. The first player to throw won the games and the conclusion carried over to the last leg. The verteran player, Lim showed a very stable game and never let Hashimoto take the lead. He managed to grab the victory over Hashimoto, who ran out of concentration at the end.
Result
Morihiro Hashimoto

141.75
5.00
6.17
112.25
5.13
○
○
701
CR
CR
701
CR
○

Paul Lim

○
○
○
150.00
5.60
6.40
127.00
4.89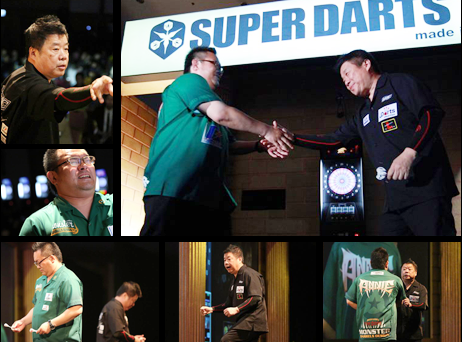 QUARTER FINAL MATCH 3
Benjamin Dersch VS Mark Webster (3-2)
For a lot of fans, this match-up was the best game of this tournament.
It was a game opposing Dersch, who won over the top player in Hong Kong, Royden Lam, to PDC player Webster, who won over Haruki Muramatsu with his impressive shotmaking.

The battle between those two players heated up from the corking. On the third cork, Dersch missed the bull, Webster got to throw first. This battle showed how important corking is for soft-tip darts.

The upsurge of this game was the 701 in the fourth leg. Both players were scoring a perfect game until the fifth round. Both Dersch and Webster missed the perfect, as well as the finish. Both players' praising each other's performances but also smiling with self-mockery was one of the best scenes of this tournament. The battle for the victory dragged to the last leg. Both players scored over a 1000 points in Cricket. The fierce battle lasted over 30 minutes. Dersch came out on top of Webster after this long exchange. Both players were praised by the audience for showing such a tremendous match.
Result
○

Benjamin Dersch

127.25
6.33
5.43
150.00
5.83
○
○
○
701
CR
CR
701
CR

Mark Webster

○
○
127.80
5.20
5.88
150.00
6.08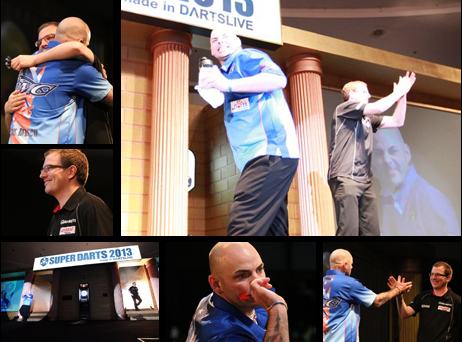 QUARTER FINAL MATCH 2
Scott Kirchner VS Antonio Alcinas (3-1)
A battle of two players who overcame strong opponents. Kirchner won over Lloyd from PDC in a clean straight 3-0. Alcinas won over the current soft-tip darts world champion, Suzuki, after a very close match, he managed to grab a comeback victory.

For the first leg, Kirchner threw his darts with high concentration and managed to take over the victory from Alcinas. For the second and the third leg, both players did not yield an inch and the games were very close. Alcinas took the second leg, Kirchner the third.
For the fourth leg 01, Kirschner was the second player to throw, but he kept his pace and finished the game. He advanced to the semi-finals.
Result
○

Scott Kirchner

135.40
4.60
4.60
150.00
○
○
○
701
CR
CR
701

Antonio Alcinas

○
99.50
4.36
4.33
113.00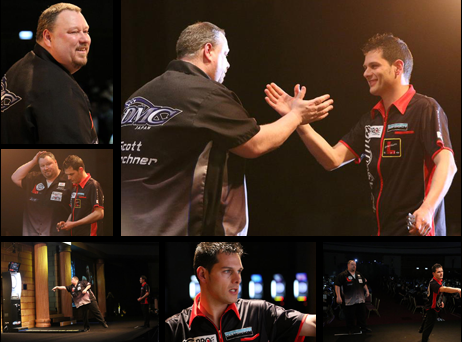 QUARTER FINAL MATCH 1
David Fatum VS Lourence Ilagan (1-3)
Fatum was building his momentum, after defeating one of the favorite of this tounament, Katsumi. His opponent, Ilagan just had a sweeping victory over the french player, Guillermont. It is a game of two players in their top form.

For the first leg, both players could not score their finish because of the pressure. Fatum finished the leg on his third attempt.
For the second leg, Ilagan was the first player to throw for the Cricket. After scoring a TON80 and having a great start, he regained his agressive play style. Ilagan kept showing high performances and grabbed the win without leaving any chances to his opponent.
Result
David Fatum

107.75
5.00
4.60
98.60
○
701
CR
CR
701
○

Lourence Ilagan

○
○
○
113.60
6.75
5.60
120.40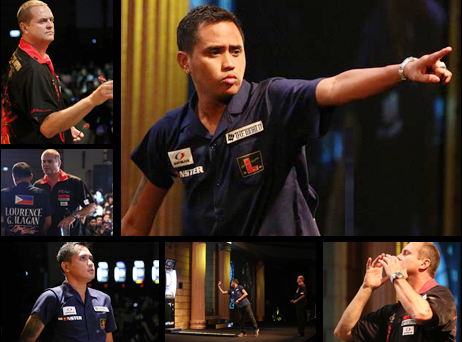 FIRST STAGE MATCH 8
Paul Lim VS Cyril Blot (3-1)
Paul Lim is the top player in Asia and held in high regards by many players. The opponent in this match is popular and powerful French player, Cyril Blot.
Lim's victory was expected due to his rich experience and high skill. But Blot played a good game with his unique form. The game was even till the 3rd leg. Unfortunately, Blot hit the bull in the Cricket at Leg 3, mistakenly thinking the game as 701 and the game was taken by Lim. In the 4th leg, Lim won the game again by getting the momentum rolling and advanced to QUARTER FINAL.
Result
○

Paul Lim

140.25
5.50
5.42
120.00
○
○
○
701
CR
CR
701

Cyril Blot

○
124.25
4.86
4.75
117.40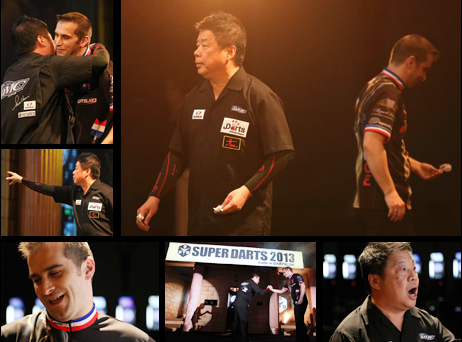 FIRST STAGE MATCH 7
Raymond Carver VS Morihiro Hashimoto (2-3)
This is the match between the former SUPER DARTS champion Hashimoto and highly experienced US player Carver who has played many international tournaments such as PDC's. By this match Hashimoto was the only Japanese player left as the other 3 were defeated in the FIRST STAGE MATCH.

The game went on without any upheaval. First player was leading and then it was turned around. The match lasted to the final leg, a cricket. Hashimoto closed the numbers steadily and moved on to the QUARTER FINAL defeating Carver who couldn't make any deciding shot.
Result
Raymond Carver

130.25
5.71
4.80
136.20
3.25
○
○
701
CR
CR
701
CR
○

Morihiro Hashimoto

○
○
○
136.60
6.67
5.33
119.00
5.80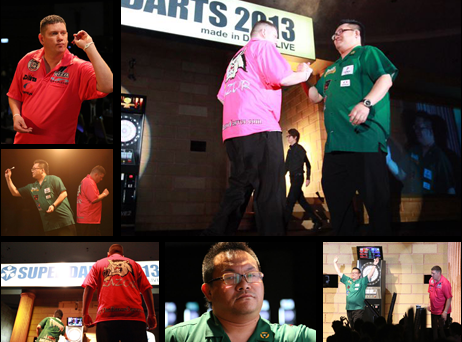 FIRST STAGE MATCH 6
Haruki Muramatsu VS Mark Webster (2-3)
This is a must see match between Haruki Muramatsu who is well known even in overseas for his beautiful form in throwing darts and has participated in PDC the most as a Japanese player and Mark Webster who is a young high ranked PDC player with a winning experience against Phil Taylor.

Webster showed the real strength of a PDC player with overwhelming shooting power. The left hander finished 701 in the first leg showing the power of the PDC player. Meanwhile Muramatsu was performing a good play on critical points and desperately trying to keep up. The battle continued to the Cricket in the last leg. But in the end, Webster grabbed the victory with the high Stats of 7.25.
Result
Haruki Muramatsu

107.20
5.11
3.75
124.80
4.33
○
○
701
CR
CR
701
CR
○

Mark Webster

○
○
○
115.20
5.38
6.40
126.75
7.25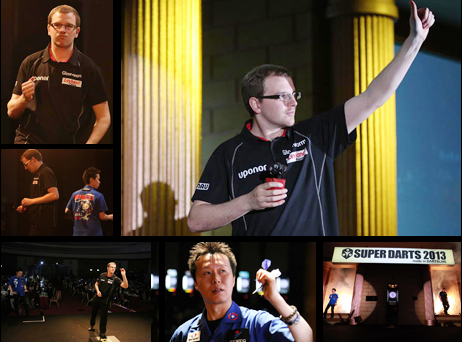 FIRST STAGE MATCH 5
Benjamin Dersch VS Royden Lam (3-2)
Royden Lam is the number 1 local player in the venue, Hong Kong, and Benjamin Dersch is a leading player in the US.

Lam throws darts with outstanding concentration while Dersch does it very cautiously. From the beginning they were going head-to-head and the competition dragged on till the last leg. Lam went first in LEG5 and Dersch countered calmly by getting the key points and reversed the game in the 3rd round with hitting 9 marks (T19-T19-T20). Lam tried to get it back again but he couldn't and resulted in the defeat.
Result
○

Benjamin Dersch

132.20
5.00
5.00
117.40
5.50
○
○
○
701
CR
CR
701
CR

Royden Lam

○
○
132.75
5.83
6.20
119.00
4.67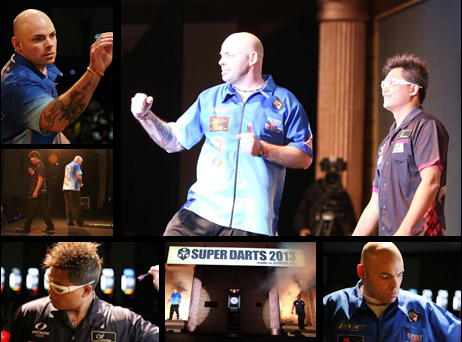 FIRST STAGE MATCH 4
Takehiro Suzuki VS Antonio Alcinas (2-3)
Takehiro Suzuki is the world champion of soft-tip darts while Antonio Alcinas is a Spanish player who also plays steel-tip darts with fighting experience at PDC.

Takehiro Suzuki is the world champion of soft-tip darts while Antonio Alcinas is a Spanish player who also plays steel-tip darts with fighting experience at PDC.

They corked 3 times before the first and the final leg. The game between 2 equally strong players livened up their audience. Suzuki struggled not being able to keep stable pace and lost the game he went first. Alcinas showed off his strength as the top player in Spain with getting critical points and beat Suzuki the soft-tip darts world champion.
Result
Takehiro Suzuki

130.20
4.50
5.33
150.00
3.80
○
○
701
CR
CR
701
CR
○

Antonio Alcinas

○
○
○
113.25
5.40
6.20
136.67
5.00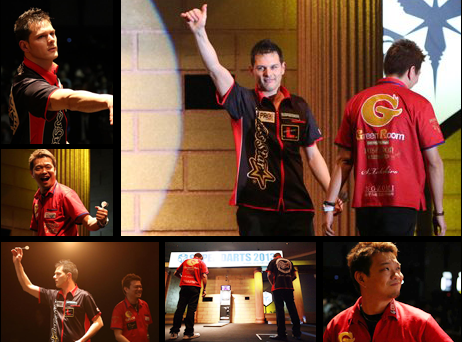 FIRST STAGE MATCH 3
Scott Kirchner VS Colin Lloyd (3-0)
This is a big match between top players of sot-tip and hard-tip darts.
Scott Kirchner represents the US, a leading soft-tip country while Colin Lloyd is a former PDC top player. Kirchner was leading the game while Lloyd was not being able to play in his best. Kirchner took LEG1 and LEG2 stably and consecutively. At LEG3, Lloyd started to show his strength as the PDC top player. Kirchner waited patiently for the chance and reversed the situation and won at the 6th round by hitting 9 marks. Kirchner became the winner of the match. In spite of the anticipated close game, the PDC top player lost in straight.
Result
○

Scott Kirchner

132.20
5.80
6.71
○
○
○
701
CR
CR

Colin Lloyd

118.25
3.00
5.43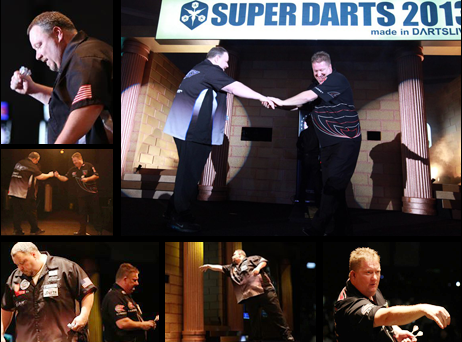 FIRST STAGE MATCH 2
Franck Guillermont VS Lourence Ilagan (2-3)
This is a battle between 2 popular players: Lourence Ilagan, the top player from the Philippines and Franck Guillermont, a highly popular player in France.
Guillermont played the good fight against Ilagan, one of the favorite of this tournament/the top rate contender for the tournament title. Both started playing at a good pace and gave an excitement to audience with their aggressive game/playstyle. Both took advantage of their first play at each leg. The competition went on to the last leg. Ilagan led ahead of Guillermont steadily and became the winner of this match.
Result
Franck Guillermont

140.50
4.60
2.50
110.80
4.14
○
○
701
CR
CR
701
CR
○

Lourence Ilagan

○
○
○
138.75
3.75
7.00
124.60
4.50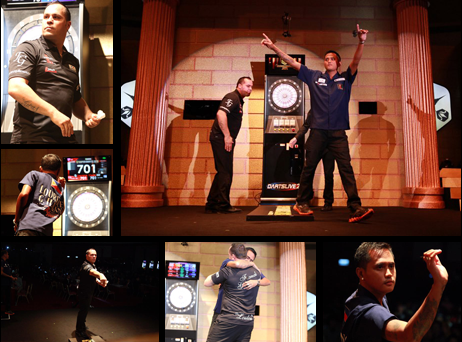 FIRST STAGE MATCH 1
David Fatum VS Sho Katsumi (3-2)
SUPER DARTS 2013 started dramatically with an unexpected defeat of the past SUPER DARTS champion, Sho Katsumi.
Both players seemed not playing with their 100% possibly from the pressure of the opening game of a big tournament. Especially Katsumi didn't show his usual high concentration in any leg. The winner wasn't decided till the last leg where the second player to throw, Fatum led the game by hitting 19, T19 and T20 in the first round and Katsumi couldn't overcome it. Fatum won the match.
Result
Sho Katsumi
127.80
5.33
5.20
108.00
3.57
○
○
701
CR
CR
701
CR
○
David Fatum
○
○
○
129.75
5.57
4.25
126.60
5.00