SUPER DARTS began in 2007 as the final of Dartslive's tournament tour in Japan.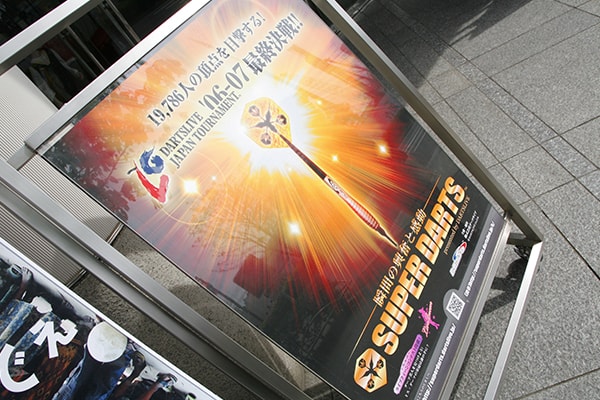 At that time, soft-tip darts were gaining in popularity in Japan mostly among young people. For the first time, SUPER DARTS offered darts as a spectator sport, not merely for players.
SUPER DARTS established a completely new style of entertainment: purchase tickets and attend darts matches as spectators at special venues. Darts fans across Japan were drawn to SUPER DARTS, the competition that decided the top of 20,000 darts players in the country.
The first SUPER DARTS enjoyed enormous popularity. Soft-tip darts had increased its fan base rapidly as more darts events had taken place in various areas.
Reflecting this trend, SUPER DARTS extended its size and scale every year. This event has adopted various ways to innovate itself. The event included not only the players who won to qualify, but also veteran professional players and champions of other tournaments.
So, SUPER DARTS promoted matches among players who had never faced each other in competition.
SUPER DARTS has established itself as the tournament to name the genuine top player and has become the special venue among darts players.
As time passed, the level of Japanese darts players intensified. It may not an overstatement that SUPER DARTS contributed greatly to the history of soft tip darts in Japan.
Lately darts has become international, and both soft and steel tip darts players come together in SUPER DARTS. To Darts fans, the stage became the ultimate venue to enjoy high level performance and personality of the participating players in person.
SUPER DARTS, that initially was the final of Japanese tournament tour, has earned its global recognition as the leading darts tournament. The level of Japanese players, likewise, is recognized internationally.
Star Players Emerged from SUPER DARTS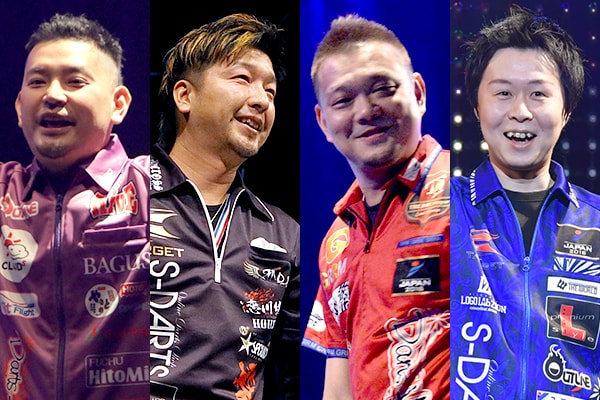 Many star players were born from SUPER DARTS. SUPER DARTS also has led to the popularity of soft-tip darts in Japan. The champions of earlier days, such as; Yuji Eguchi and Mitsumasa Hoshino, greatly contributed to the growth of Japanese soft-tip darts as well.
They are the leaders of Japanese soft-tip darts players who attract people once they begin throwing darts. As they watched their dart play within magazines and on TV shows, many young people started playing darts. Barrels and flights used by Eguchi and Hoshino sold very well.
Takehiro Suzuki, who joined SUPER DARTS with his experience of merely 1 year and 7 months, became known among darts fans with his spectacular records at the stage. Haruki Muramatsu was already famous because of his outstanding performance in PDC, but gained more new fans in SUPER DARTS.
Let's take a look at the list of past champions. The first champion was Yuji Eguchi in 2007, Mitsumasa Hoshino in 2008 and 2009 (the first winner of 2 consecutive years), Sho Katsumi in 2010, Morihiro Hashimoto in 2011, Scott Kirchner in 2013, Paul Lim in 2015 and Keita Ono in 2017. This great lineup of players reflects the stellar scale of SUPER DARTS.
Darts Fans Share Excitement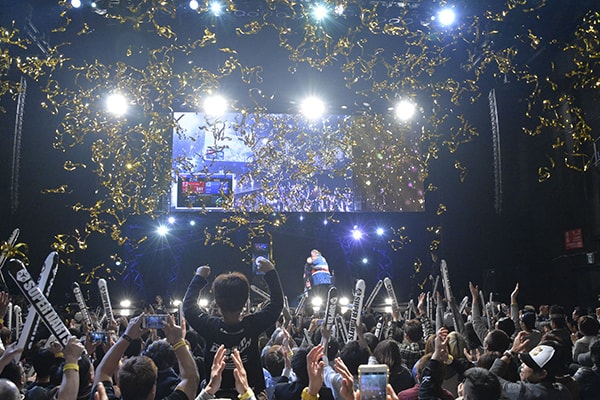 Darts is an individual sports, but the excitement and joy can be shared by many. Darts became so popular as it connects people to people. SUPER DARTS brings its joy and excitement to fans who are not able to be at the venue of SUPER DARTS via Live Webcasting and Group Viewing at DARTSLIVE shops.
On SUPER DARTS day, the atmosphere of some darts bars changes. Usually the places are filled with laughter and loud music. But on the tournament day, people are seriously staring at the performance of participating players on the screen in those darts bars.
Fans can share the joy and excitement of the tournament across the world regardless of their locations. The thrill and excitement of darts matches along with audience's cheer will go on till the end.
Ever Evolving SUPER DARTS
SUPER DARTS keeps evolving. It will mark its 11th year in 2018 and is ready for the leading 16 players on its stage. We can't wait to see the performance of those players in SUPER DARTS 2018.