Date
Thu Mar 15 - Fri Mar 16 2018
Venue Open 4:00pm Event Start 5:00pm Match Start 6:00pm(Event ends around 10:30pm)

Mar 15 FIRST ROUND MATCH(Total of 8 matches)
Mar 16 QUARTER FINAL to FINAL MATCH (Total of 7 matches)
Access
Directly connected to "Akasaka Station" of Tokyo METRO CHIYODA Line
8 minute walk from Exit 10 of "Akasaka Mitsuke Station" of Tokyo METRO MARUNOUCHI/GINZA Line
7 minute walk from Exits 10 and 7 of "TAMEIKESANNO Station" of Tokyo METRO NANBOKU/GINZA Line
Tickets
S seat:JPY16,000(excl. tax) for Mar 15 and 16 ※2-day ticket A seat:PY8,000(excl. tax) for Mar 15 A seat:JPY10,000(excl. tax) for Mar 16 ●All tickets come with special DARTSLIVE CARD(Not for sale)
※S seat ticket (※2-day ticket)comes in a special frame.

Seating map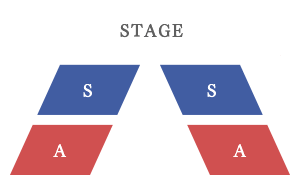 Exclusive Giveaway Gifts at the Venue
DARTSLIVE Theme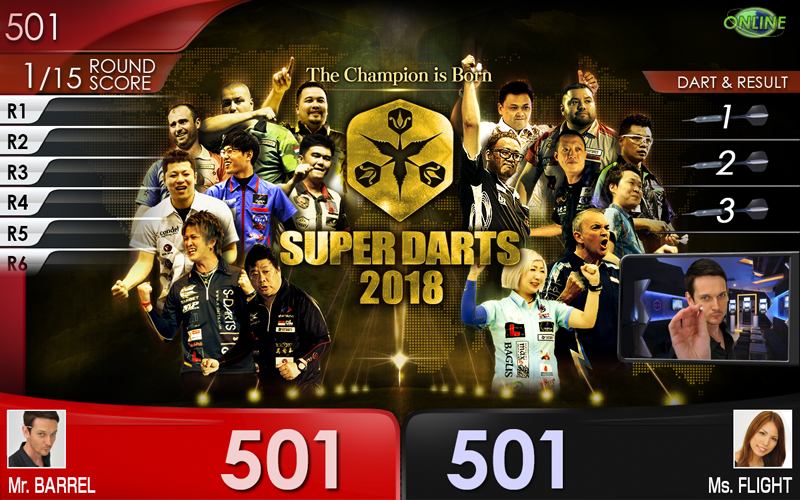 DARTSLIVE CARD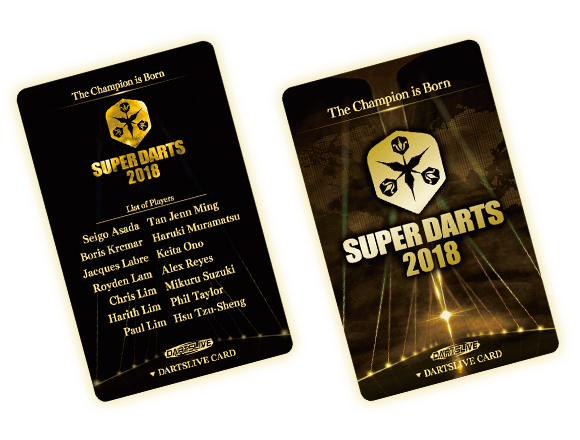 Advantage for Thu Mar 15Advantage for Fri Mar 16
*These photos are for illustrative purposes only. Actual products may vary.
How to purchase
To be available at "LAWSON-TICKET & HMV" from Thu Jan 25, Noon.


LAWSON TICKET↗

For ticket inquiries, please contact us via e-mail.
superdarts@lhe.lawson.co.jp

All times indicated are local times.
●Purrchasing Method
Credit Card(Visa/Master/JCB/Diners)

●How to collect your ticket(s)
[Places]
You will receive your ticket(s) at the venue, there are "Will-Call Window"(s) at each venue.
Required documents:
1. Credit card (which you used to pay)
2. Passport or personal identification card
3. Application number (10 digits)
*Please note that you will not be able to collect your ticket(s) if you do not bring your credit card which you used for purchasing the ticket(s)
Reminders
Before purchasing tickets
●Please bring your ID to the event.
●Preschool-age or younger children are not allowed to enter the venue.
●Everyone Must Have a Ticket. Please be advised that all patrons, including children, need a ticket for entry. No children in laps or seat sharing will be permitted.
●The event organizer reserves the right to remove any persons who are found to be impending the progress of the event.
●Event organizer reserves the right to use pictures, movies and any other audiovisual items for promotion and advertisement. By participating in this event, you agree to accept the organizer's right.
●Smoking is prohibited in the seated area of the venue. Please use the designated smoking area.
●No food or drink is to be brought into the venue.
●We are not responsible for lost or stolen tickets and are not obligated to replace/reissue lost or stolen tickets.
●Due to limitations in parking space around the venues, we advise you to take public transportation measures.
●Please note that this event schedule is subject to change.
●Ticket sales will be on a first come, first served basis. However, please note that seats will be assigned by random draw.
●The total amount of tickets purchased will be charged to the credit card in Japanese yen.
●Purchases cannot be changed or cancelled.
●Purchases for the purpose of reselling or transferring are not accepted.
●Any tickets resold for profit are invalid and admission with such tickets may be refused.
●The event organizer and ticket center assume no responsibility whatsoever for any trouble caused by tickets purchased through resale.