News
Let's go to ASIA OPEN with DARTSLIVE Card!
Finally, THE WORLD 2014 will begin next weekend!
It is going to be a huge event! Not only THE WORLD STAGE 1, but also ASIA OPEN and SUPER LEAGUE WORLD CHAMPIONSHIP 2014 will be there!
Dates: April 5th (Sat) to April 6th (Sun)
When you bring your own DARTSLIVE Card…
Of course you can enjoy this big event by just participating in it but there is one item you can bring with you to enjoy this event to the fullest! That item is, DARTSLIVE Card!
We have a special giveaway at the venue for you when you bring your own DARTSLIVE Card!
You can also get ASIA OPEN limited DARTSLIVE THEME when you play a game at DARTSLIVE BOOTH!
If you are DARTSLIVE PREMIUM MEMBER…
We will have a special offer for DARTSLIVE PREMIUM MEMBER!

You can get DARTSLIVE original goods and a free ticket for the "XTREME BULL CHALLENGE"!
When you hit the center of the BULL in 1 dart, you will win a cash prize of HK$10,000 (Approx.US$1,300.00)!
(Limited to 1 time, 1 throw per player)
The challenge will be free with the ticket, so take advantage of this opportunity to win the cash prize.

Also, there will be a gorgeous opening performance on April 6th (Sun) ♪
Don't miss this opportunity!

■Click here for the official website of THE WORLD 2014
Tournament outline
ASIA OPEN is…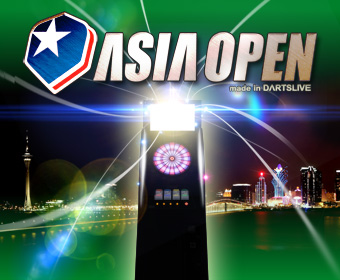 DARTSLIVE ASIA OPEN will be held in Macau, April 5th and 6th 2014. This tournament consists of many events, such as Singles, Doubles, Consolation tournament, side shoot events where many players can enjoy.
THE WORLD 2014 STAGE 1 will be concurrently held.
Tournament name
DARTSLIVE ASIA OPEN 2014
Tournament date
Sat/Sun, Apr. 5 & 6, 2014
Venue
Macau Fisherman's Wharf Macau Fisherman's Wharf Convention and Exhibition Centre Hall 1-3
Avenida da Amizade e Avenida Dr. Sun Yat-Sen, Macau
Prize money
Total amount of prize money US$24,900
(Currency:US$)
DOUBLES TOURNAMENT
LEVEL
1st
2nd
Best 4
Best 8
Best 16
MAX
US$2,000
US$1,000
US$500
US$260
US$100
3
US$1,600
US$800
US$400
US$200
US$80
2
US$1,000
US$500
US$200
US$100
US$40
1
US$600
US$300
US$150
DOUBLES CHALLENGE TOURNAMENT
MAX
US$300
US$150
US$75
3
US$200
US$100
US$60
2
US$160
US$80
US$50
1
US$100
US$50
US$35
SINGLES TOURNAMENT
3
US$1,000
US$500
US$300
US$150
US$80
2
US$800
US$400
US$200
US$100
US$60
1
US$400
US$200
US$100
All SIDE SHOOT
MAX
US$100
US$50
US$25
3
US$100
US$50
US$25
2
US$100
US$50
US$25
1
US$100
US$50
US$25
Total amount of prize money
US$24,900
Concurrent Event