Calculation of 100% RATING and 100% STATS
Quantify 100% of your darts results to know your ability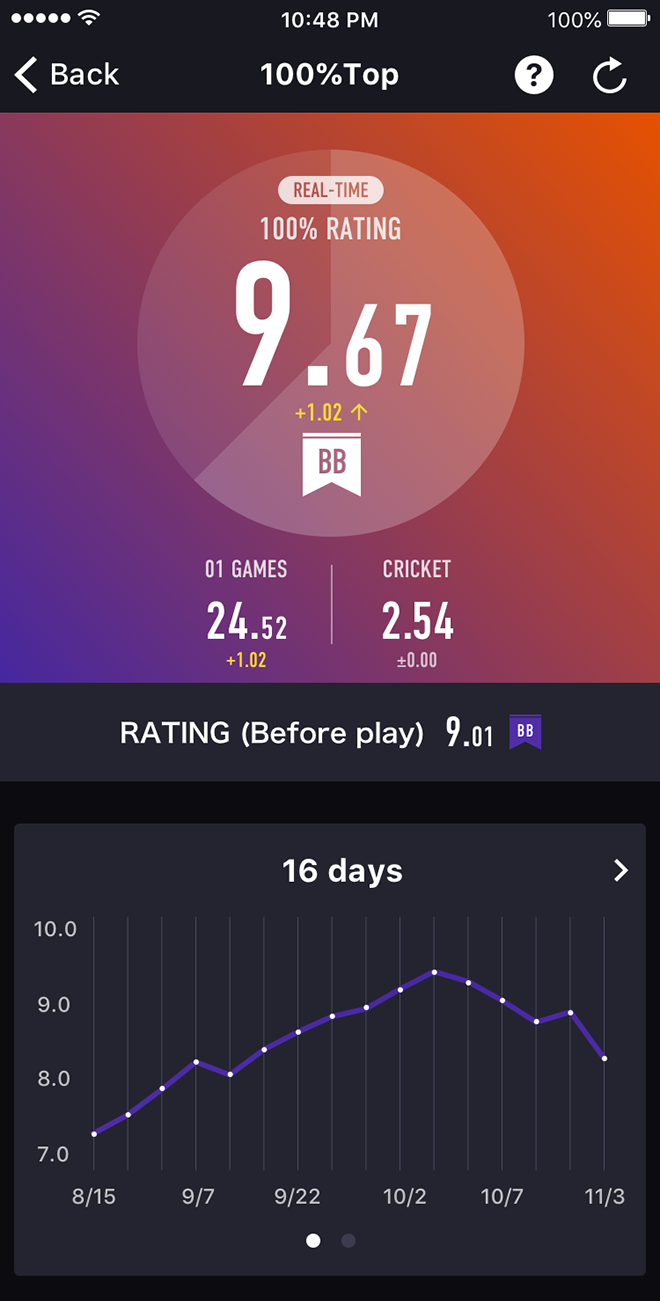 What are 100% RATINGS and 100% STATS
DARTSLIVE now collects both 80% RATINGS/STATS and 100% RATINGS/STATS from a game. 80% RATINGS and STATS are decided at the point a game is 80% completed. Unlike the distorted 80% RATING, 100% RATINGS and STATS are confirmed after the last dart at the end of a game so you can accurately check your ability.
Subscribe to the Premium+ Plan to view your 100% RATING calculated from 100% STATS, as well as game-by-game, month-by-month, and day-by-day data for 100% STATS.
In a match, your STATS are also determined when your opponent completes 80% of the game. On the other hand, 100% RATING and STATS are calculated based on your performance, without being affected by your opponent's game progress.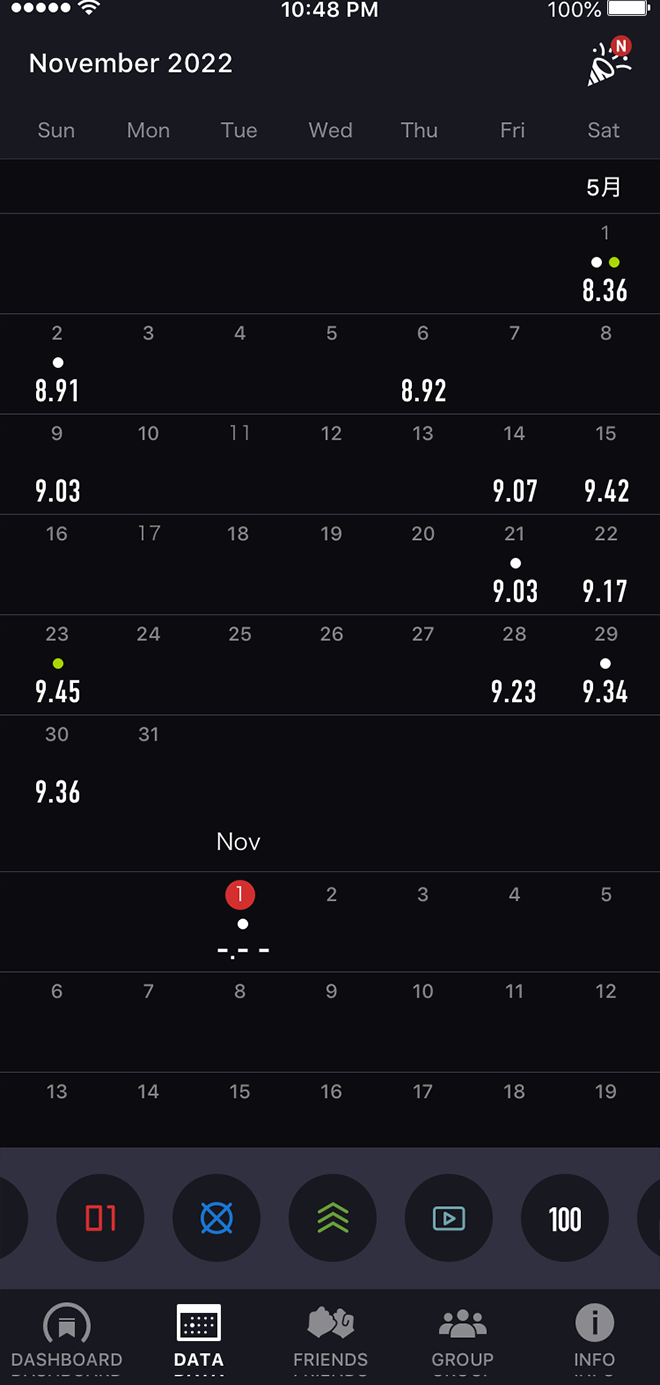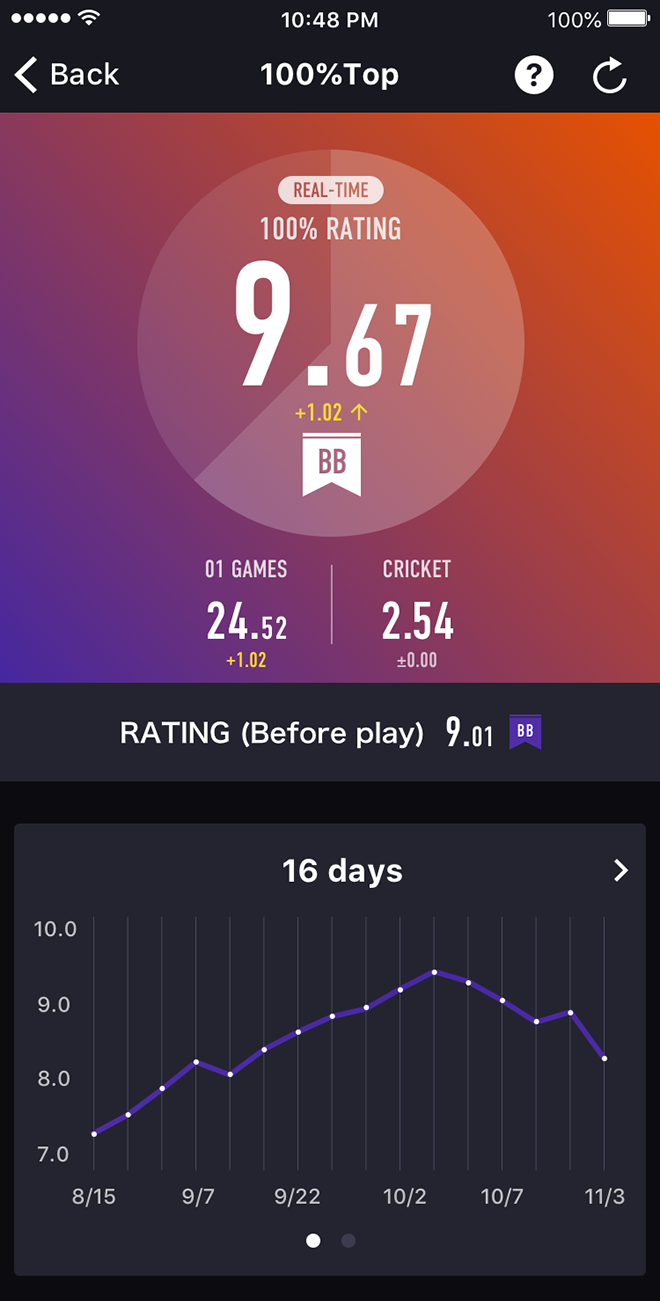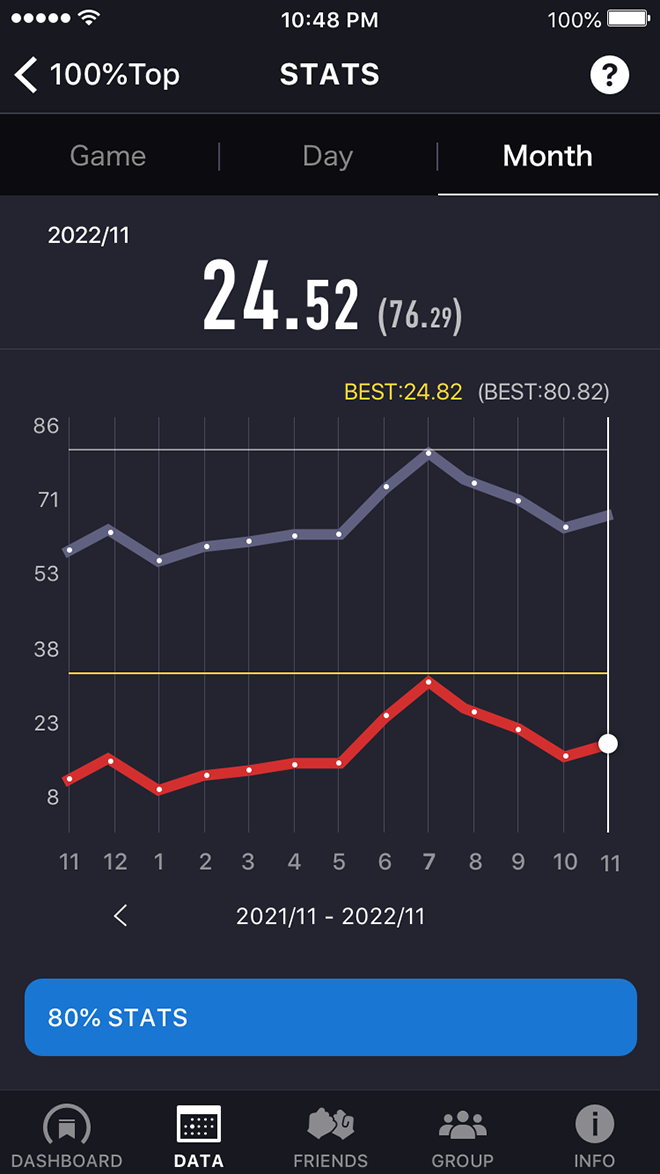 Learn more about the RATING!
1 Day RATING
Check your DARTSLIVE RATING for only 1 Day!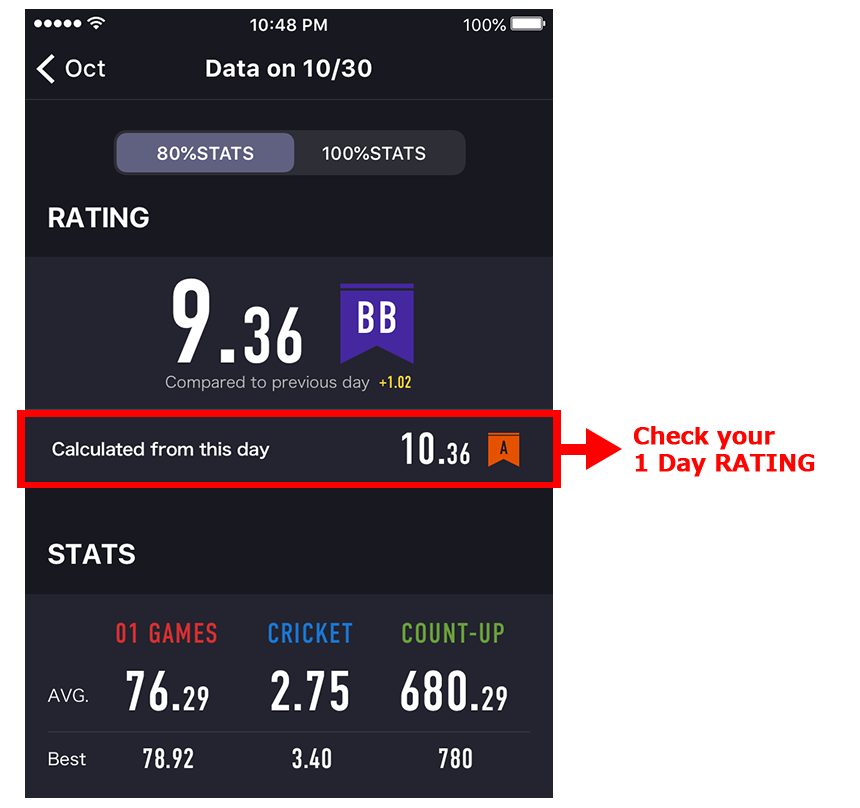 "I played well today. I want to find out what my RATING was just for today."
The answer to this need is the 1 Day (daily) RATING. It is possible to check your daily RATING with 1 Day RATING. 1 Day RATING can also be switched between 100% and 80%.
With regular RATINGS, the results of the most recent 30 GAMES are reflected. So, unless you play more than 30 games a day, you can see how you are doing including the past results. With 1 Day RATING, you can see your RATING for that day only.
Record a Game Play Video of your Memorable Matches
Free Video Tickets Available Every Month
"The time I got my first AWARD!"
"The time I played DARTSLIVE against a famous person!"
"Playing DARTSLIVE on my Birthday!"
You can now keep a Game Play Video of your matches to commemorate special occasions. Upload the video filmed by the DARTSLIVE3 camera and also try downloading it onto your smartphone!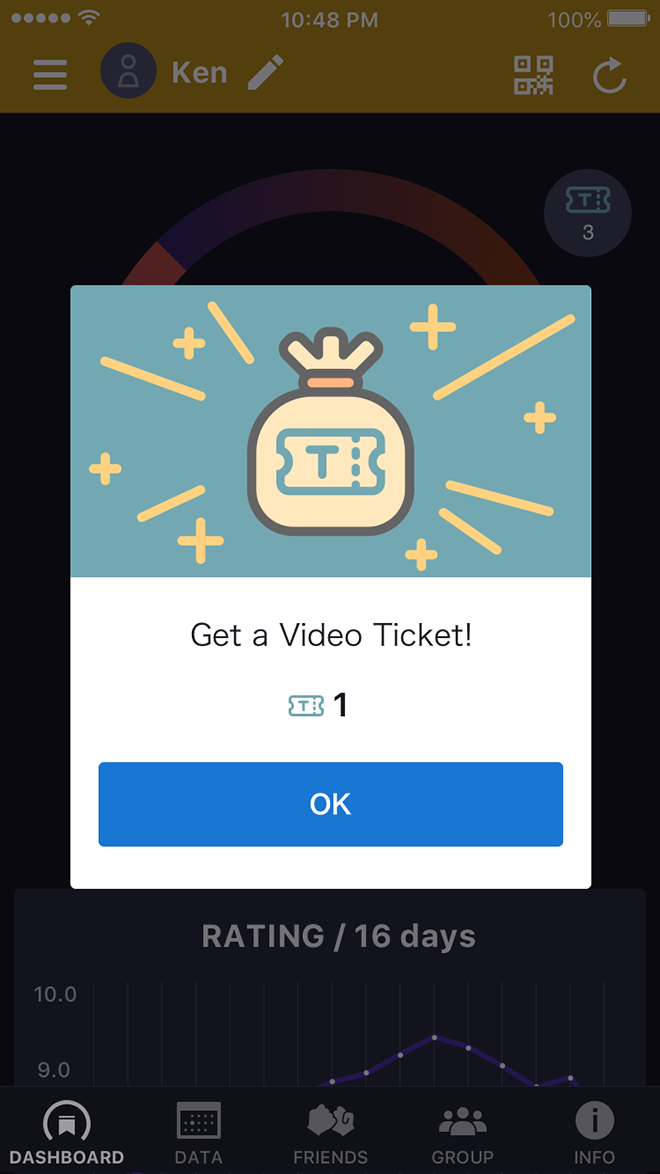 Premium+ Plan Members receive one free Game Play Video Ticket every month (ticket expires at the end of the month). Premium+ Plan Members will also be able to purchase additional Game Play Video Tickets for 300 Coins (Other Plan Members must pay 500 Coins per Ticket).
*

The Game Play Video function is available to all DARTSLIVE users on all Subscription Plans.
Easily change the lighting of the dartboard
What color do you prefer?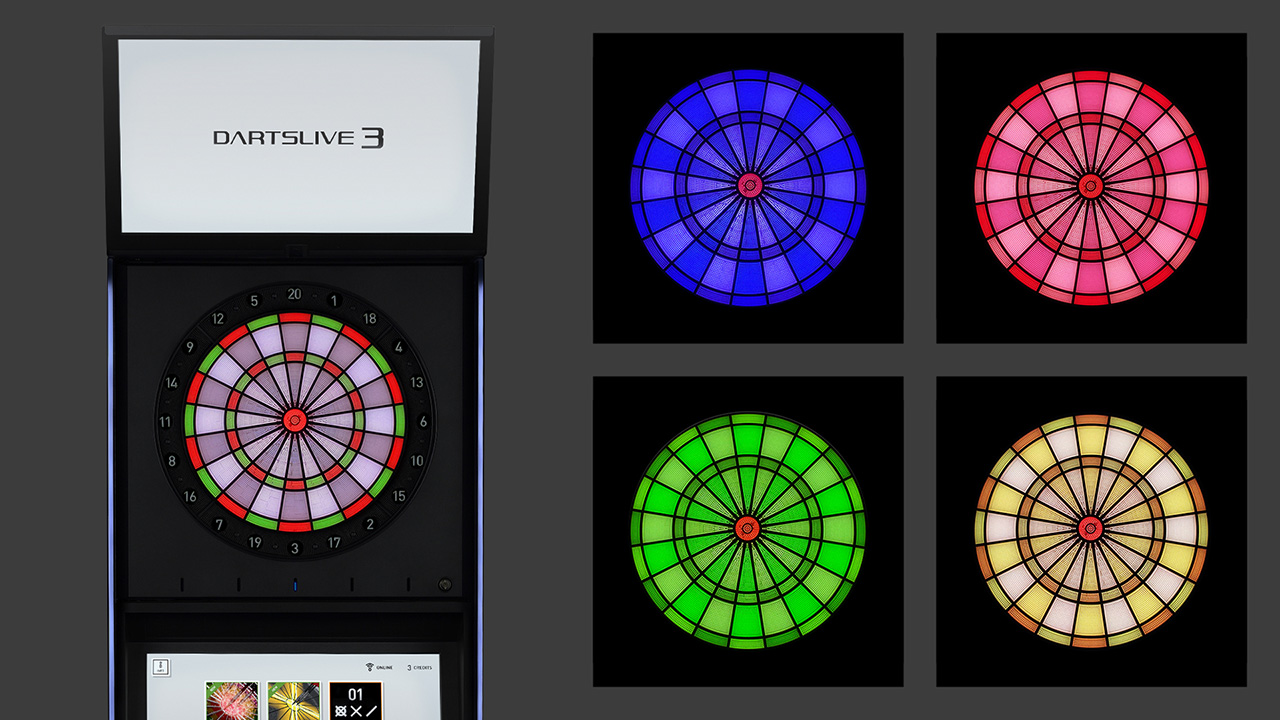 The DARTSLIVE3 board changes color!
Customize the color of the LED lights with a variety of patterns.
Customize the dartboard with various colors!
Available on the following games:
・01 GAMES
・CRICKET (STANDARD, HIDDEN, TEAM)
・COUNT-UP
・HALF-IT
・CRICKET COUNT-UP
・SHOOT OUT
Improved VOICE Function
Do you have a VOICE that you want to hear?
We have enhanced the number of VOICE settings available on the Premium+ PLAN. Japanese voice actor, Shunsuke Takeuchi has joined the lineup on the VOICE function. We hope to add more people to the VOICE lineup. Stay tuned for the updates!
Customize DARTSLIVE Home with Digital Contents
Set a DARTSLIVE THEME and AWARD MOVIE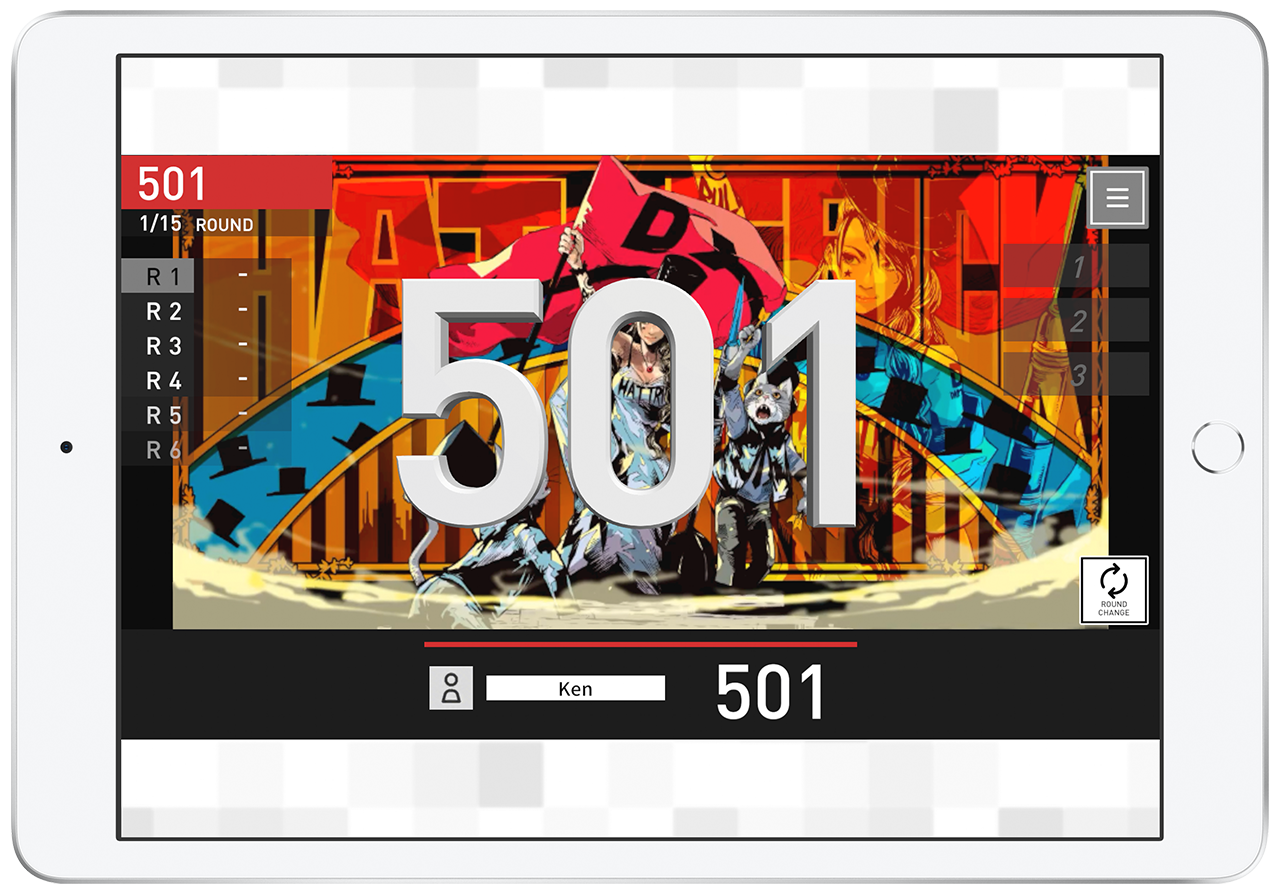 Use the Customize function on the DARTSLIVE Home app to set a DARTSLIVE THEME and AWARD MOVIE.
DARTSLIVE THEMES and AWARD MOVIES available can be selected from the Card Page in the same DARTSLIVE Account.
*

Some digital contents cannot be used on the DARTSLIVE Home.
Unlimited EXTRA GAMES
Play SONIC REFLEX, Hyena 01, and more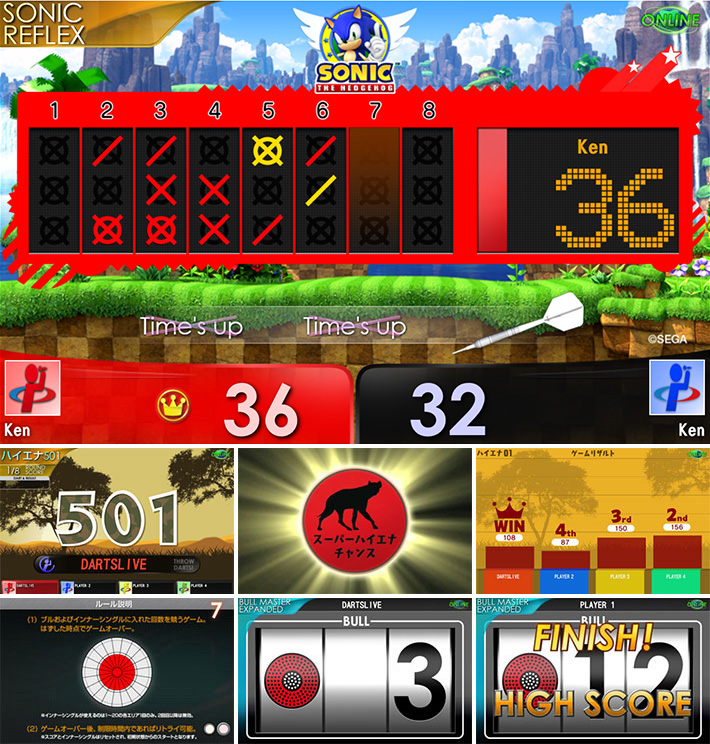 You can play unlimited EXTRA GAMES on DARTSLIVE2 24/7!
It usually costs 50 Coins every 24 hours to play the EXTRA GAMES such as the new game, SONIC REFLEX, Hyena 01 and BULL MASTER EXPANDED.
However, you can play them for free on the Premium+ Plan.
*

To play games on DARTSLIVE2, credits are required.
We will continue to add new content and functions to the Premium+ Plan. Stay tuned!
The Subscription Plan Renewal Rewards Program is even more attractive for Premium+ Plan Members.
Get limited edition digital contents only available to Premium+ Plan members!
Learn more about the Premium+ Plan
Learn How to Subscribe to the Premium+ Plan
*

Please understand that the DARTSLIVE Services offered may vary by Country and Region.