SUPER LEAGUE WORLD CHAMPIONSHIP
SUPER LEAGUE WORLD CHAMPIONSHIP 2016 -FINAL MATCH-
SUPER LEAGUE WORLD CHAMPIONSHIP 2016 Result
SUPER LEAGUE WORLD CHAMPIONSHIP

Champion

J.D.W (JAPAN)
2nd

TEAM SINGAPORE (Singapore)
Best4

Arrow's (Hong Kong)

TEAM MALAYSIA (Malaysia)
Participating Countries
Australia / Singapore / Japan / HongKong / Korea / Taiwan / U.S.A / Indonesia / Malaysia
Team list

Team
AUStarz
Country and region
Australia
Players (Rating)
Ian Tay (8)/ Darren Lim (12)/ Yeongsheng Chen (12)/ Yikai Chua (9)/ Tamrin Ng (7)/ Evii Tai (6)/ Szeto Pong (9)/ Xiang Ning Lai (7)
Comment
For our team members, this elevates us to a whole new level of competition which gets us really excited. At a international competiton level, the pressure mounts but at the same time we see it as a great opportunity to gain experience from other good players from all around the world. To be selected as a team to compete in this tournament throughout the journey has not been easy , we will enjoy the game and bring the experience back to share with other players back in Australia. For that we are very greatful to DARTSLIVE for organizing this great event, and we are looking forward to the match against Japan!
---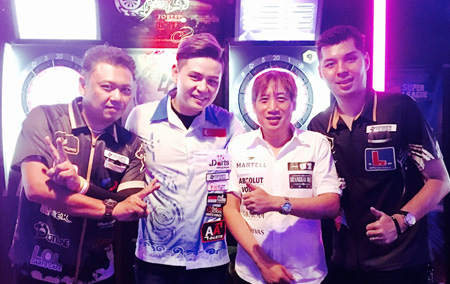 Team
TEAM SINGAPORE
Country and region
Singapore
Players (Rating)
Harith Lim (18)/ Ian Lai (17)/ James Quek (16)/ Leslie Lee (15)
Comment
We feel proud, honoured and really happy! This is the first time for all of us so it is really quite exciting! For some of us, it has been an aim to represent the country so this is a dream come true. What's more, SLWC 2016 will be held on home ground so it's really an honour. When playing as a team, it is also about team spirit and we enjoy encouraging each other to enjoy playing darts. Train hard, fight as a team! Happy darts! We will fight hard for the team, do our country proud and hopefully win it!
---
Team
tuktuk
Country and region
Japan
Players (Rating)
Yuichi Kai (16)/ Masaki Miura (18)/ Makoto Koike (17)/ Shinji Hara (16)/ Norifumi Nakashima (13)/ Yuhei Nishimuta (15)
Comment
As a Japan representative, we will do our best to get the championship! We really enjoy team coming together, aiming for the win as a team. We don't know which countries will be participating, but it is our first time fighting as a representative. We are ready for the battle!
---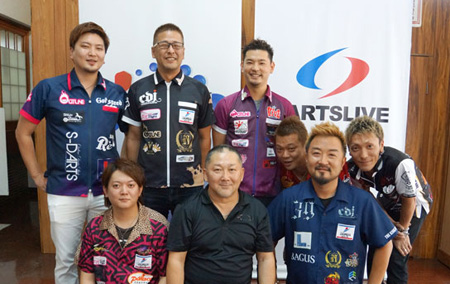 Team
J.D.W
Country and region
Japan
Players (Rating)
Takehiro Suzuki (16)/ Hirokazu Osaki (17)/ Yuji Eguchi (17)/ Daisuke Akamatsu (17)
Comment
We feel little disappointed since all of our team mates cannot make it to this tournament, but only 4 of us. We are on the losing streak as a team, so we feel sad there too. But we feel grad to be fighting in the SLWC as a Japanese representative. We also want to fight for our team members who cannot make it to this tournament. We are looking for good competition.
---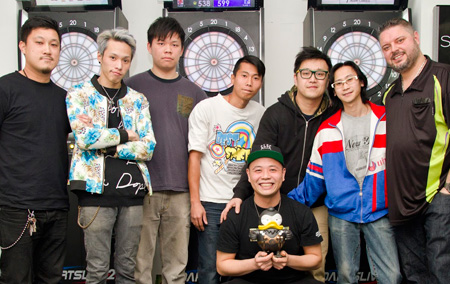 Team
Arrow's
Country and region
HongKong
Players (Rating)
Ng Ki Fu (16)/ Leung Chun Kit (15)/ Ho Kam Wa (14)/ Pang Yuk Lun (17)/ Isen MOXIE VELJIC (17)/ Leung Chun Ki (16)/ Leung Ho Yiu (16)/ Leung Chun Nam (16)
Comment
We are so excited joining this event for two consecutive years.This game meansa lot to us and we are very enthusiastic to participate in it. We feel good together and lucky to win the championshipfor 2 consecutive yearand its definately our honor to represent Hong Kong.SUPER LEAGUE in Hong Kong is very competitive, we have been practiced a lot and fighting so hard in every game in order to win. Since we have gained experience from last year, we do understand which part is our weak one during the game and we foucs on the training in that particular area. We are hoping to get the Best 4 in the competition, better be the champion. We will do the best, expecting a perfect game.
---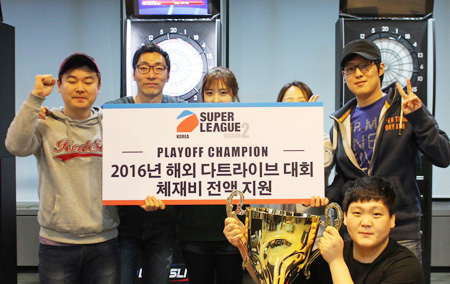 Team
Burning
Country and region
Korea
Players (Rating)
Eun Sang Kim (7)/ Tae Hyun Kim (13)/ Sang Min Park (6)/ Jung Woo Lim (12)/ Hee Hae Shin (5)/ Yeonghye Goh (3)
Comment
We are very thankful to DARTSLIVE KOREA for giving us a chance to participate in SUPER LEAGUE WORLD CHAMPIONSHIP. During the season, we tried our best to become a representative of Korea, and although we know that our skill level is not enough to fight in the world class tournaments, we are very happy to be representing Korea. We are looking forward to fight against Japan or Singapore, because they seem to have many good players. Our humble aim is to win at least once in the tournament!
---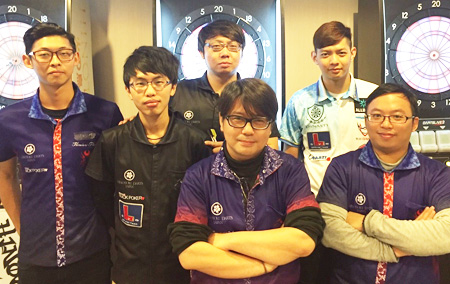 Team
Mahpiya Luta
Country and region
Taiwan
Players (Rating)
HUANG,CHING-CHUAN (10)/ Lin Chien-Min (15)/ HSU,YI-HAO (15)/ Liao,Jian-Xun (15)/ HSU EN-HUAN (13)/ Cheng Wei kun (16)/ Lo,Wen-Chun (12)
Comment
We are so happy to be able to join SLWC2016 as a team after defeating the strong teams from all over Taiwan. We are looking forward to competing against the world's greatest teams that have survived the fierce competitions. Right after the moment we became the national champion, we started feeling higher expectation from people. At the same time, we also feel being envied. We will play our best in the competitions against the leading teams from other countries. We will focus on each match not only the outcome to meet your expectations. Fun of teamwork is obviously not available in solo matches. Having the strongest players in a team doesn't always make the team strongest. Our goal is to be the strongest team, not a group of the strongest members. We would like to enjoy the matches and obtain good results.
---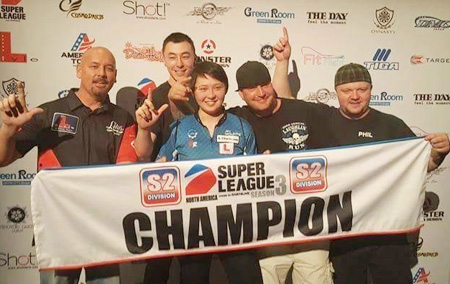 Team
Better Pack a Lunch
Country and region
U.S.A.
Players (Rating)
James Hartman (10)/ Phil Robertson (8)/ Jesse Lindburg (13)/ Jennifer Mounts (11)/ Thad Rain (13)/ Chris Lim (17)
Comment
A world championship event is something you dream about. It goes far beyond your roots in the local bar. From first learning how to play the game to transcending culture. It's darts in its purest form and an honor to take part in it. We value and appreciate the chance to represent our country. It's an opportunity to show how gracious and supportive American dart players are of one another. Who wouldn't want to show their own country what a champion looks like? We get a chance to set an example of American darts and hope that people will emulate us in the future back at home. It was a disaster at first starting out SUPER LEAGUE. We had a team member quit and struggled to find balance with a different sub each week. We believed in each other, however and in turn became champions because of that trust when it came time to really focus and win. We expect to remain prideful regardless of how we place during the event. We have a desire to play for our country and an eagerness to discover a new culture and just enjoy our time in Singapore. There is obviously desire culminating in us to become world champions. There is a lot of raw emotion building so we clearly have the goal to win. We believe we can.
---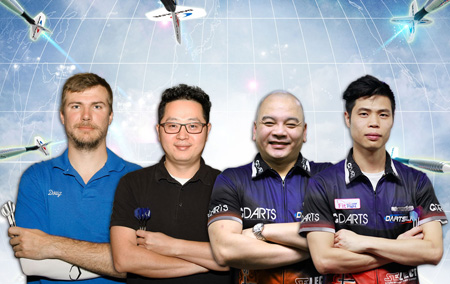 Team
CHINA SIX
Country and region
China
Players (Rating)
Chen Hai Long (16)/ Boehm, Bouglas Andrew (16)/ Chen Zhi (16)/ Xu Jun Biao (15)
Comment
We are very excited to be participating in SUPER LEAGUE WORLD CHAMPIONSHIP. We have played a lot of tournaments and we always want to enjoy our time. If it's not fun there's no reason to go. With that though we have more fun when we win and when we play well. we think our team will play strong together but with lots of good teams it we will need to rise higher together.
---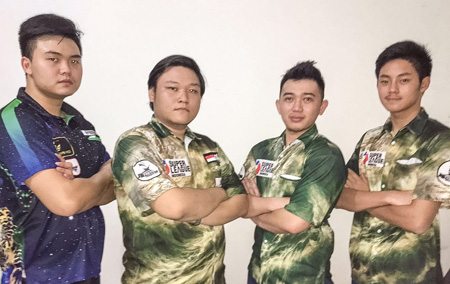 Team
Garuda
Country and region
Indonesia
Players (Rating)
Michael Vesper (16)/ Edwin Ong (16)/ Marcello Stephen (15)/ Steven Alexander (13)
Comment
We are so excited to participate as a team in our first ever international major tournament. A big thank you to DARTSLIVE for organizing such a big event. Always a great fun to play in team all the time, and to represent Indonesia in SLWC is a great honor for all of us. We get together like 3 times a week to practice, and after we got the notice of this tournament, all we did was practive, practice, and practice. Since it is our first major team tournament, we would say that we just want to go out and have some fun, and maybe cause a few upsets along the way. We are looking forward for the battle with Singapore, Japan and Hong Kong!
---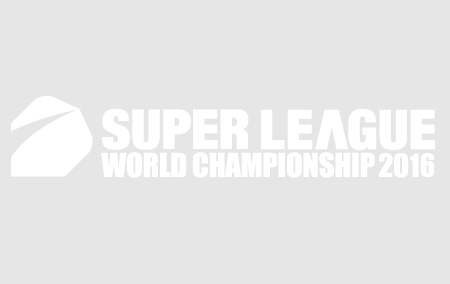 Team
TEAM MALAYSIA
Country and region
Malaysia
Players (Rating)
Larry Wong (15)/ Benny Kong (15)/ Azmie Aziz (15)/ Dennis Shanker (15)
Comment
We are excited and looking forward to join this prestige event. We are very proud of each and everyone in the team and it is such a great honour to represent our country. We are all having fun in the league and the team is like family and the league has make us better players. We have been preparing for this tournament through our team practive routines. Our aim is to become the Champion and to bring back pride and glory for our country.
---
Outline
Tournament name
SUPER LEAGUE WORLD CHAMPIONSHIP
Tournament date
Saturday 2 April 2016
Venue
Amara Sanctuary Resort Sentosa
1 Larkhill Road, Sentosa Island, 099394
Prize money
(Currency:US$)
SUPER LEAGUE WORLD CHAMPIONSHIP

CHAMPION
2ND PLACE
BEST 4
Prize money
US$10,000
US$4,000
US$2,000
Time table
Sat. 2 April 2016
10:00

Draw
※Each Captain will draw for the Round Robin bloc. All team member needs to be at the venue with their official ID or passport for the member checkin
11:00

Tournament Start
About Tournament
Tournament
Pre-tournament: Round Robin
Finals: Singles Elimination Tournament
Game Format
Pretournament Single Elimination Tournament: Competition in all 7 legs
Single Elimination Tournament: Best of 7LEGS (the first team who wins 4 legs win the match)
Section 1
1.SINGLES 701 (OI/MO)
2.DOUBLES STANDARD CRICKET
3.DOUBLES 501 FREEZE (DI/DO)
4.HALF–IT GRAND MASTER MODE (TRIO)
Section 2
5.DOUBLES 701 (OI/MO)
6.TEAM CRICKET (two players per team)
7.GALLON 1101 (OI/MO)
One player only can play for maximum 2 games in each Section.
・One player only can join one Doubles game in Section 1.
・5th Leg and 6th leg cannot be the same player.
In Section 1, one player maximum can join 1st Leg and 2nd/3rd Leg OR 2nd/3rd leg and 4th leg
・In Section 2, one player maximum can join 5th Leg & 7th Leg OR 6th leg & 7th leg
About the progression of the tournament
Each team's captain will hand the player's name list and playing order to the referee at the start of their MATCH.
The referee will fill the MATCH score on the score sheet.
After the MATCH, the captain will be asked to sign the score sheet.
The winning team's captain will hand the score sheet back to the Control.
The next match teams will be announced using microphone by the Control.
Notes about the tournament
The Playing Order cannot be changed during the MATCH.
The Player Order can be changed for every MATCHes.
Tournament rules
Tournament Rules Part 1
This tournament basically adopts WSDA Rules.
Payers who will be playing in SUPER LEAGUE WORLD CHAMPIONSHIP cannot play BLIND DOUBLES due to time restrictions.
We will conduct the pretournament drawing in the morning of the tournament day. For team that does not show up to the draw, tournament official will draw for the team.
Bring your regularly using DARTSLIVE CARD on the tournament day.
Change your CARD name to your real name and use it to all matches.
If the name is not set to the real name as stated in the official ID, the said player will have 5 minutes to change the name. If the name is not changed within 5 minutes, the LEG that player is participating will be counted as automatic lose.
Maximum no. of players per team is 8 for each match. Player change is not acceptable during the match.
No practice throws are allowed once the MATCH starts. Player will be given 2 throws before each participating LEG.
Tournament Rules Part 2
1.Round limit is 20 for 701,1101 and CRICKET
2.Throwing Order of the game

Throwing order will be decided by corking.
The coin toss function of DARTSLIVE2 will be used for deciding who throws the cork first.
The player who throws closer to the center can decide the throwing order.
If the first player's dart hits the exact center of the BULL, the second player is required to acknowledge that the first player's dart is in the center bit of the BULL, remove the dart and then throw for the cork.
If the first round of cork does not result in a winner, reverse the throwing order and cork again. *In this case, throw the second dart without removing the first darts
ROUND ROBIN: At the 1st LEG, throwing order will be decided be the winner of the cork.
SINGLE ELIMINATION ROUND: At the 1st LEG, throwing order will be decided be the winner of the cork.
After the 1st LEG, 2nd to 6th LEG will be losers first.
If the MATCH went onto 7th LEG, the winner of cork can pick the throwing order.
Amendment of incorrect scoring
1.If a dart machine records the score incorrectly and remains stuck to the board, a referee can be called and the "Reverse A Round" function will be used to reverse the score. The correct score will be entered by the referee by pressing the target segment where the dart is stuck. If a dart thrown does not stick to the board and falls off, the score recorded by the dart machine will be considered as valid.
2.Incorrect scores cannot be amended, after the darts stuck to the board are removed, and the round is forwarded to the next player and the opponent player throws darts.
3.In case the game has to be suspended and restarted for reasons such as power outage, with mutual consent of players, a referee will restore the game scores and progress. If it is not possible to restore the game, the leg in question will be reset and players will be asked to play a new game.
Dress Code
All players are required to compete in appropriate attire.
Team shirts are recommended.
All players must present a clean and neat appearance.
All shirts must have sleeves.
No cut-offs or ragged edge hems on any shorts.
Shoes must be worn in the tournament room at all times.
No unauthorized use of shirts similar in style to the staff shirts will be allowed on the tournament floor.
Penalty for not obeying the Dress Code

Any player not in proper attire will have the right to one 15-minute grace period to make the necessary change. Thereafter there will be NO grace period and the player will be disqualified from the match.